Your business' biggest IT issues and how LP can fix them
---
Posted 22nd April 2021
---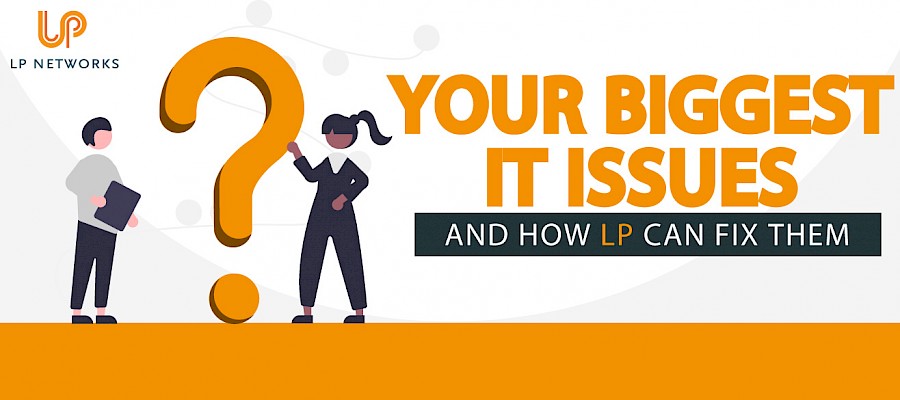 ---
In business productivity and profitability go hand in hand, so having IT issues which slow down working processes will undoubtedly have an impact on the success of your business. In fact, estimates within the IT services industry put the amount of money lost by UK businesses due to technology issues at around £3.4billion per year. When you consider it financially, it makes far more sense to fix existing issues than soldiering on with tech that doesn't work for your business. Using an IT service provider like LP Networks can fix many of the IT issues that make you want to tear your hair out. Here are just a few examples.
Poor communication between colleagues and teams
The Covid-19 pandemic and lockdowns have brought this issue to the front of the line. The impact of remote working has required businesses to embrace online communication systems and collaboration platforms. The problem is that there are so many out there it can be difficult to assess which is best and that staff may need training to use the new tech.
How LP Networks can help
As a Microsoft Silver Partner, we're able to provide Microsoft Office 365 software on a monthly subscription. Teams is an excellent communication and collaboration system which allows staff to connect and work with each other on a simple platform. When linked up with Microsoft Outlook, calendars and documents can sync, improving communication, reducing missed deadlines and lost documents, and helping remote workers feel like they're a part of the team.
Your IT is unreliable and unresponsive
Unreliable and unresponsive or recurring IT issues will obviously have an impact on your business. Aside from the fact that restarting devices and drumming fingers on a desk whilst staring blankly at a screen takes up valuable time, there is also the frustration and annoyance connected with something not working properly.
How LP Networks can help
Firstly, LP Networks offer an excellent IT Support Desk which is manned by a team of IT experts who can help fix any issues that arise. Wherever possible they will always try to fix the problem remotely. However, if an issue is reoccurring it is always advisable to have an IT Audit. IT Audits are implemented across a business' entire IT estate and pinpoint hardware and software that may not be working efficiently enough. From there, we can then begin to build an IT strategy with you and work out how ensure that your IT is fit for purpose.
You can't access your work remotely or sometimes can't find it and have to start again
There's nothing more frustrating than spending a long time on a piece of work only to not be able to find it the next day. The same can be said if you suddenly find yourself working from home and can't access anything that is on your device at the office.
How LP Networks can help
LP Networks offer a variety of Cloud Solutions which make it easy to access your files and documents from anywhere with an internet connection. This means that you can always access your documents, no matter the circumstances.
Alongside this, we also provide a Managed Cloud Backup Service which not only creates a daily backup but also checks to ensure the backup has worked.
If you've read this and nodded your head at all during this blog, you should probably get in touch with us for a chat about your company's IT needs. Our team are always happy to provide professional and impartial advice and can show you how each of our services works.