Introducing Exclaimer - Professional email signatures for Office365
---
Posted 14th February 2020
---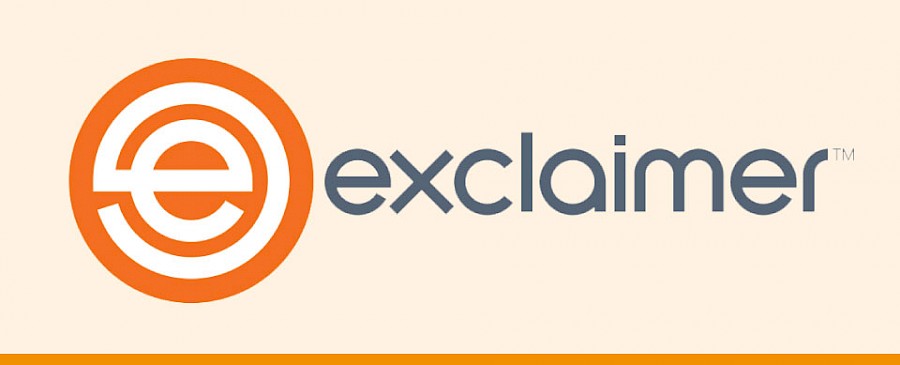 ---
Aside from including your contact details, your email signature is the perfect way of reminding your customers and clients of your branding and social media accounts. But, ensuring that your whole team have matching signatures can be a time-consuming nightmare. This problem is added to by the fact that email app and device has different email signature set ups and requirements. The inevitable result is that an email sent from a smartphone will have a different signature to one sent from a PC or Mac.
Thankfully, there's a clever platform which can solve all your email signature design worries from one web browser window.
Introducing Exclaimer! Professional email signatures for Office365
Exclaimer is the world's first drag and drop signature editor and was the winner of The Queen's Awards for Enterprise: International Trade in 2016. It is a very clever Office365 signature management service, which allows users to centrally create email signatures that work across all devices.
Using the Office365 directory, Exclaimer guarantees that every user has the correct contact information in their signatures and its simple drag and drop system means you can easily add and update signature content for your whole team. So, for example, if you want to add a fundraising or promotion banner you can simply add it to every user's signature at the click of a button. Much easier than asking everyone to individually change their own signatures.
Exclaimer also allows you to make as many signature designs as you like, so for businesses working internationally, it's possible to create a sign off in multiple languages.  The ability to easily make changes across multiple signatures whilst maintaining company brand messages has been picked up by a number of high-profile companies and organisations. Exclaimer is now the go-to email signature creator for Everton FC, Detroit Zoo, The Movember Foundation, and UNICEF Nederland!
If you would like to ensure that all your signatures are uniform or if you don't have email signatures and want to start using them, LP Networks can add this service on to your existing package.  Get in touch with us today.